Golf Shop News, August 12th
Look what our members are doing
Click on the link below to follow the leaderboard and cheer on Freddy D'Angelo, Ben MacLean & Luke Delgobbo as they compete this week in the Canadian Junior Boys Championship!
CLICK HERE FOR THE LEADERBOARD
Men's Senior Ryder Cup
The 2019 Senior Ryder playoffs got underway on Tuesday, August 6th at the Stanley Thompson designed Dundas Valley Golf and Curling Club (home of PGA tour winner Mackenzie Hughes) testing the skills of 128 of the Senior Ryder Cup Niagara Region's best players.
Heavy morning rains greeted the golfers at registration but by the 1:00 shotgun start the skies had cleared and play was underway at the assigned time. Many matches were tight and not decided until the final putts.
Sixteen clubs had qualified for the playoff event with Lookout Point Country Club, Grand Niagara Golf Club, Port Colborne Country Club and the Donalda Golf Club teams punching their tickets to the Senior Ryder Cup Championship at Devil's Pulpit on September 5th.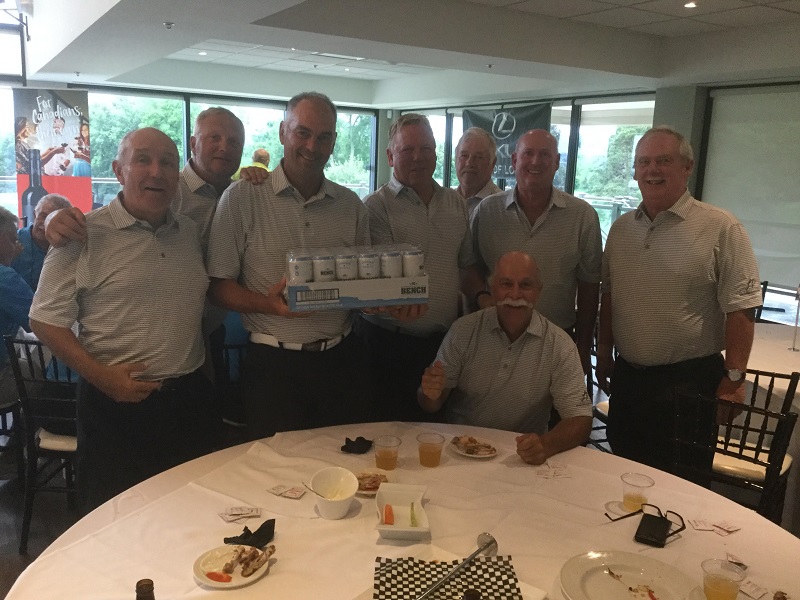 From Left:
Woody McKaig, Joe Spiler, Joe Miszk, Frank Mortensen, Peter Vandervalk, Tim Stewart, Doug Piett & Ian Penney
Member Member
Thanks to everyone who signed up early for this year's Member/Member Tournament. The event is now SOLD OUT and we look forward to a great weekend ahead on August 24th/25th.
Senior Men's Invitational
Golf Shop Credits
A friendly reminder that all Golf Shop credits earned prior to the Member / Member event weekend (August 24/25) must be redeemed before the end of the season.
Course Conditions
Aldo and his team continue to do a spectacular job with the conditioning of the course. As members, we have a responsibility to do our part to help the cause. Over the past few weeks we have noticed an uptick in things such as bunkers not being raked, ball marks not being fixed and divots not being replaced. This extends to our practice facility as well where we continue to see Scatter and Concentrated patterns as opposed to the preferred LInear ones (see below image for reference)
As a reminder, we have our Adopt-A-Hole program in place where each member is responsible for helping to keep two holes of the golf course in great shape. Responsibilities include:
Replacing of filling divots

Raking Bunkers

Picking up garbarge

Repairing Ball Marks

Reporting any damage or areas that could use some improvement to the Golf Shop
FIRST LETTER OF LAST NAME / HOLE ASSIGNED
A, B / 1, 10
C, D, E / 2, 11
F, G, H / 3, 12
I, J, K / 4, 13
L, M / 5, 14
N, O, P / 6, 15
Q, R / 7, 16
S, T / 8, 17
U, V, W, X, Y, Z, / 9, 18
We encourage all members to do a little extra over the coming weeks as we being to prepare the golf course for the Fall & Winter seasons.